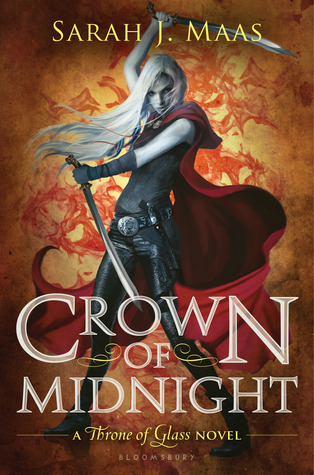 Title:
Crown of Midnight (Throne of Glass #2)
Author:
Sarah J. Mass
Published:
August 27, 2013
Pages:
418
My Edition:
Scribd
Buy it:
B & N
|
Kindle
|
Book Depository
|
Rating:
"A line that should never be crossed is about to be breached.

It puts this entire castle in jeopardy—and the life of your friend."
From the throne of glass rules a king with a fist of iron and a soul as black as pitch. Assassin Celaena Sardothien won a brutal contest to become his Champion. Yet Celaena is far from loyal to the crown. She hides her secret vigilantly; she knows that the man she serves is bent on evil.
Keeping up the deadly charade becomes increasingly difficult when Celaena realizes she is not the only one seeking justice. As she tries to untangle the mysteries buried deep within the glass castle, her closest relationships suffer. It seems no one is above questioning her allegiances—not the Crown Prince Dorian; not Chaol, the Captain of the Guard; not even her best friend, Nehemia, a foreign princess with a rebel heart.
Then one terrible night, the secrets they have all been keeping lead to an unspeakable tragedy. As Celaena's world shatters, she will be forced to give up the very thing most precious to her and decide once and for all where her true loyalties lie... and whom she is ultimately willing to fight for.
Crown of Midnight
is a book I've been putting off for a while ever since I finished
Throne of Glass
. I didn't have any will intent towards the series (obviously from my review), but I just had a lot going on in my life at the moment that I couldn't spare a moment to read.
Anyway, I
loved
this book. It's a great sequel and it's a great continuation of the story regarding how new things developed and how relationships changed. This was a real fun rollercoaster ride. I'll take this by the bigger things. Don't worry, no spoilers (though I feel like I'm the last person who's read this book).
Celaena is always such a great character. She's very true to herself while also being susceptible to any new development and or any new traumas. You see a lot, I mean
a lot
of new sides and different sides to her that you didn't see in the first novel. This is really the bigger chunk of the story so far. This is the juicy part, this is the part that everything starts to come together and I'm figuring that the next two books are just the aftermath of what's found in this book. I like how she didn't make the love triangle a huge part of her journey (I mean, she's got bigger fish to fry) and that it was really a subplot and it stayed there.
Speaking of the love triangle, I loved it. I'm normally not a huge fan of love triangles, but this felt really organic and there were real reasons for all of their actions. It never felt like anything didn't have a reason. They all had a reason for falling for each other and I accept the canon. I'm curious as to how the story progresses. I really hope there isn't any new love interests being thrown in here like there usually is in this kind of situation.
Overall the ending made me want to just jump start on the next book (and jump start I did. I'm reading it right now). I want to know how this story goes. I want to know how everything ends.
Like I said in the Throne of Glass review. I'll be keeping up with this series and you know damn well I'll be upset when it ends.