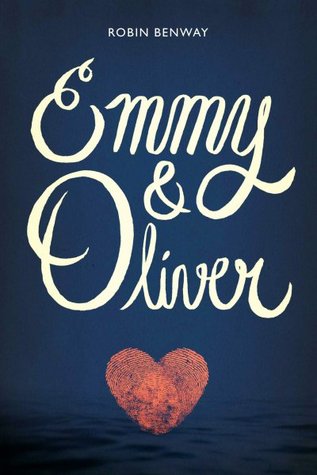 Title:
Emmy & Oliver
Author:
Robin Benway
Published:
June 23, 2015
Pages:
352
Buy it:
B&N
|
Kindle
|
Book Depository
|
Kobo
Add to Goodreads!
Rating:
Emmy's best friend, Oliver, reappears after being kidnapped by his father ten years ago. Emmy hopes to pick up their relationship right where it left off. Are they destined to be together? Or has fate irreparably driven them apart?
Emmy just wants to be in charge of her own life.
She wants to stay out late, surf her favorite beach—go anywhere without her parents' relentless worrying. But Emmy's parents can't seem to let her grow up—not since the day Oliver disappeared.
Oliver needs a moment to figure out his heart.
He'd thought, all these years, that his dad was the good guy. He never knew that it was his father who kidnapped him and kept him on the run. Discovering it, and finding himself returned to his old hometown, all at once, has his heart racing and his thoughts swirling.
Emmy and Oliver were going to be best friends forever, or maybe even more, before their futures were ripped apart. In Emmy's soul, despite the space and time between them, their connection has never been severed. But is their story still written in the stars? Or are their hearts like the pieces of two different puzzles—impossible to fit together?
Readers who love Sarah Dessen will tear through these pages with hearts in throats as Emmy and Oliver struggle to face the messy, confusing consequences of Oliver's father's crime. Full of romance, coming-of-age emotion, and heartache, these two equally compelling characters create an unforgettable story.
Now anybody who's been following this blog knows that I look at YA novels (specifically contemporary) with a pretty critical and jaded eye. I used to consume this stuff nonstop and then I kind of got older and kind of didn't. I started to dislike what the genre was etc, etc.
This novel however has me hooked. It gives me a little hope for the genre. I really loved all of the characters and I cared for them a lot and I wanted the best for them. I was interested in how the story would go.
Like the synopsis said, Emmy's best friend Oliver returns home after being kidnapped for ten years. This is their story. It's a pretty good story. It's set in California, which I can relate to whoo hoo! Other than that I felt that Emmy was pretty level headed, even though she's keeping secrets from her parents as do most teens. I didn't get a sense of this weird edge that teens written in YA tend to have, which was really nice. I just got this sense of this girl who's going to graduate high school really soon, looking toward the future an wanting to get away from her hovering parents.
Oliver was the same. This story doesn't change POV, but there was a really nice way Oliver was written and it was really easy to catch onto his uneasiness and his confusion. He also brings up a really good point in the novel where he says that he feels like he's been kidnapped again. He feels that he's been uprooted from his old life in New York and plopped into an unknown territory. It was a really interested and really real way of putting his situation. Oliver wasn't caged and locked like most Criminal Minds episodes might show. Oliver was raised by his father and had a pretty decent life. It brought a new perspective into the novel which I really enjoyed and I kind of wish I had more of that.
The romance was really cute. I mean, I came in here expecting romance and I got it. It was really adorable, warm, and fuzzy and I wanted their relationship to work out. I'm glad this didn't go a weird "we used to be best friends and kind of in love and even though we haven't seen each other in ten years we're STILL SO IN LOVE" route. That's
way
too unrealistic for me and I wouldn't be able to take that.
Overall? This novel was addictive and just a really nice contemporary novel. I'm glad this book lived up to the hype I kept seeing around it and I'm glad I got to enjoy it. Even though it
looks
like I'm looking for something to rant about, I'm really not. If I was, I'd be wasting my time and I wouldn't be reading YA novels anymore--but I find little gems like this one and I feel like it's worth going through some novels I really dislike in order to find really good ones. I finished this novel pretty quickly and I couldn't put it down very easily. If I get a whiff of another contemporary novel this good, I think I'll look at it in a more optimistic light.