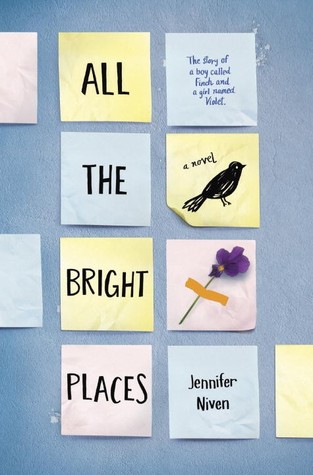 Title:
All the Bright Places
Author:
Jennifer Niven
Published: January 6, 2015
Pages: 400
Add to Goodreads!
The Fault in Our Stars meets Eleanor and Park in this exhilarating and heart-wrenching love story about a girl who learns to live from a boy who intends to die.
Soon to be a major motion picture starring Elle Fanning!
Theodore Finch
is fascinated by death, and he constantly thinks of ways he might kill himself. But each time, something good, no matter how small, stops him.
Violet Markey
lives for the future, counting the days until graduation, when she can escape her Indiana town and her aching grief in the wake of her sister's recent death.
When Finch and Violet meet on the ledge of the bell tower at school, it's unclear who saves whom. And when they pair up on a project to discover the "natural wonders" of their state, both Finch and Violet make more important discoveries: It's only with Violet that Finch can be himself—a weird, funny, live-out-loud guy who's not such a freak after all. And it's only with Finch that Violet can forget to count away the days and start living them. But as Violet's world grows, Finch's begins to shrink.
This is an intense, gripping novel perfect for fans of Jay Asher, Rainbow Rowell, John Green, Gayle Forman, and Jenny Downham from a talented new voice in YA, Jennifer Niven.
This book struck a chord with me.
Like honestly? It's one out of the three books in my life that have actually made me cry. So this book is up there with Of Mice and Men and The Book Thief. Yeah. It's that good.
I honestly don't even know what to say and it's been like a good two weeks since I finished this book. Violet and Finch were like my children and I wanted to protect them and guide them through a rocky recovery because recovery is not a nice paved road. It's like a road that the city has forgotten so there are cracks, there's pieces of asphalt sticking out--it's not pretty.
This book made me feel so many things and the greatest thing (even though it's also the worst thing) that this book has given me was a sense of dread. From the beginning of the book I knew what the ending was going to be and I hated it. When it got closer and closer I wanted it to be different. I actually wanted it to be like "oh wow love wins all" because then I wouldn't be so damn sad. But that's what makes this book so great.
Violet:
Violet was a character that was easily relatable. Sure she used to be a cheerleader and she used to be a great student, but shit happens--and for Violet shit hit the fan real hard. I've been in her shoes. I know what it's like to lose someone so close and it totally changes your entire outlook on life. It changes who you are and it's amazing how she yearned for everything that used to be--for the Violet that used to be and in the end, she comes to terms that the Violet that used to be will no longer be part of her life and it's great. She learns to move on and grow.
Finch:
Finch. My dear, Finch. This boy. He was honestly like a little brother to me. I wanted to protect him from everything. I wanted to keep him away from the darkness and I wanted to help him on a journey to recovery. It's really sad because there were moments where I could see it shining through.
This book really has a place in my heart. It's a special little book and it's one that I think everyone needs to read. It shows how raw and how real depression is and it shows two sides of it very clearly. Violet is on her way to recovery. Finch unfortunately is not. It's very obvious in this book (at least to me) and it also shows the stigma there is towards depression and suicide. Especially in the end chapters. There are so many things that reflect what society does in the face of these kinds of tragedies and when you get inside the heads of these characters, I feel like the hurtful stigma that is produced is even more emphasized.
This book also showed something really important: how one can look so happy while being incredibly mentally ill and depressed. Throughout the entire book Finch is trying to help Violet (and he does), but when you look back at Finch you realize just how hurt and how helpless he is. It doesn't help that his family is probably feeding it. When someone is in his state, they need attention--and unfortunately, his family didn't have any for him.
This book is so important.